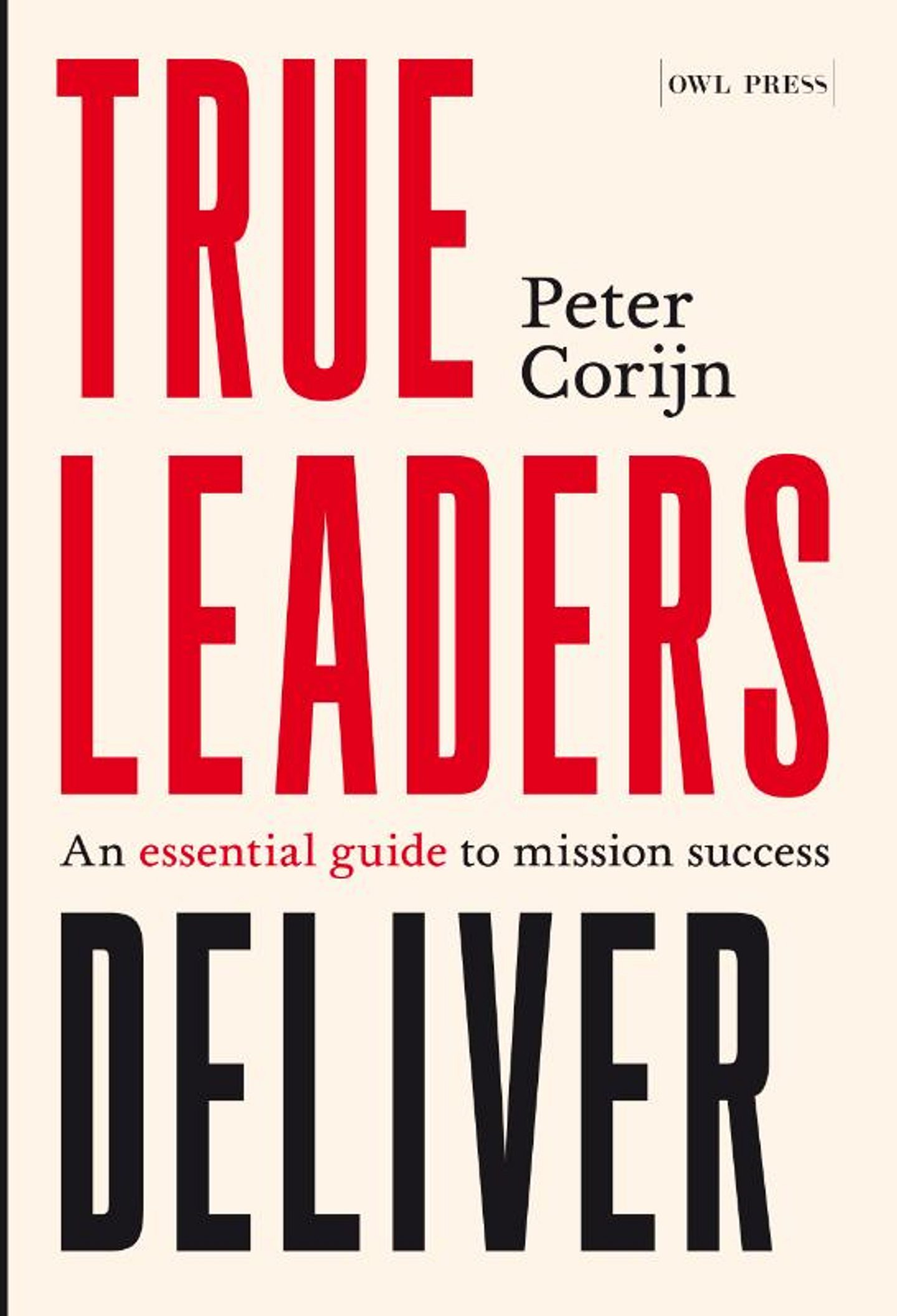 True leaders deliver
An essential guide to mission success
Gebaseerd op inzichten en lessen uit de geschiedenis, Special Forces, psychologie en zelfs rocksterren
GREAT BUSINESS LEADERS FOCUS ON DELIVERING RESULTS. THEY WANT TO WIN AND MAKE A POSITIVE CONTRIBUTION TO THE WORLD. BUT HOW TO GET THERE?
That's the subject of Peter Corijn's acclaimed book. Based on extensive executive experience and research, the core pillars that lead to mission success are revealed. The author not only provides a compelling explanation of the "what", but also offers crucial guidance on the "how" of creating and capturing value in the marketplace. Lots of proven tools are shared that leaders and their teams can immediately implement to transform their business. All advice is based on real-world, hard-earned experience.
Peter is a master storyteller who effectively emphasizes insights through persuasive business cases, but equally with concepts derived from unexpected sources. True Leaders Deliver will elevate your leadership and inspire your organization to achieve superior returns.
In stock
Onze levertermijn is 1 tot 2 werkdagen
Gratis verzending
Auteur

Categorie

Economie, management en marketing

Taal

Engels

Aantal pagina's

300

Uitgave datum

18 augustus 2023

Vorm

Hardback

Formaat

227 mm x 163 mm

Gewicht

643 g

EAN-nummer

9789072201836
"
I agree with the premise that leaders need an intrinsic drive coming from a will to make a positive contribution for all stakeholders. This intrinsic drive makes them deliver. What sets this book apart is that it provides a leader with the necessary tools and actionable advice on how to make things happen. It does not stop at the insights and strategic level and the tools and advice are based on hard earned experience. It's an engaging read because of clear, compelling cases and the variety of the sources. Strongly recommended.
Jef Colruyt - Chairman and CEO of Colruyt Group
"
Every CEO should distribute this book to all leadership ranks, from junior to senior. The book's an incredibly rich source of tools and insights on how to deliver. It contains what every business leader should know - and more importantly – do.
Paul Polman - Business leader, campaigner, and co-author of 'net Positive'
Ook interessant
Deze moet je hebben