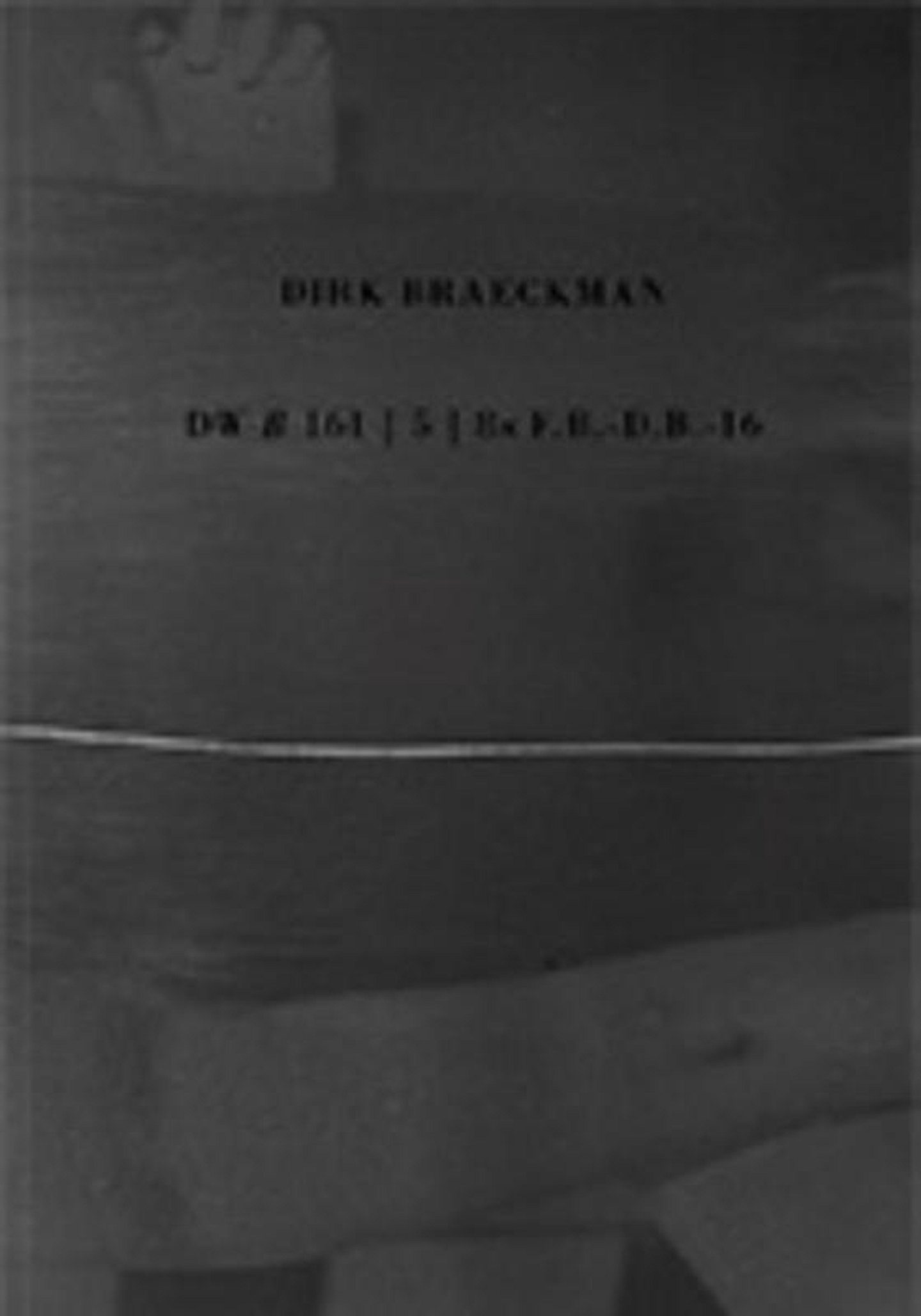 Dirk Braeckman. DW B 161 / 5 / 8x F.B.-D.B.-16
Voor deze editie selecteerde samensteller Christophe van Gerrewey acht gastauteurs die elk om beurt hun woorden met Braeckmans beelden laten interageren en resoneren. Het gaat om Jan-Willem Anker, Frederik Willem Daem, Erik Lindner, David Nolens, Bart Koubaa, Koen Sels, Wytske Versteeg en Fiep Van Bodegem. De originele teksten die zij voor deze publicatie schreven, verhouden zich op een unieke manier tegenover de indringende foto's van Dirk Braeckman. Aldus ontstaat een intrigerende publicatie; een versmelting van twee werelden.

In het oeuvre van Dirk Braeckman staat steeds het experiment centraal, enerzijds in de registratie en anderzijds, des te meer, in de bewerking. De beelden die Braeckman capteert kennen vaak een anonieme oorsprong. Of het nu gaat om eigen opnames, found footage of een combinatie hiervan: de kunstenaar ontdoet de beelden radicaal en steevast van hun temporele en ruimtelijke context. Braeckman capteert verlaten transitzones zoals gangen, hallen en hotelkamers; plekken waar het private en het publieke elkaar overlappen. Hij is doorgaans in zijn onmiddellijke omgeving aan het werk, wat zijn foto's een zeker autobiografisch karakter geven. De kunstenaar verkent de grenzen van zijn medium en daagt de fotografische conventies uit. De flits van de camera kaatst af op de textuur van de muren, gordijnen, tapijten en lakens. Een volledig verstilling ontstaat door de zuivere kracht van de beelden.

Not available (reason unspecified)
Gratis verzending
Author

Jan-Willem Anker
Frederik Willem Daem
Erik Lindner
David Nolens
Bart Koubaa
Koen Sels
Wytske Versteeg
Fiep Van Bodegem

Language

Nederlands

Pages

80

Release date

03 January 2017

Product form

Paperback / softback

Dimensions

338 mm x 238 mm

Weight

590 g

EAN number

9789492321435